not all mats are equal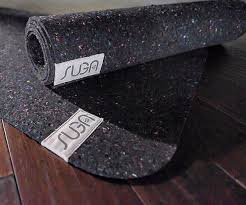 Having the right yoga mat can completely change your practice.
Having your own yoga mat can really help you FEEL into your practice.
2 statements I swear by
The right yoga mat will offer optimal density to help you balance but keep you cushioned under knees and butt, it will be a good size and weight for your body, it will offer the right grip for your style of practice, it will echo your sentiments on earth loving care, its looks will draw you on to it even when you're feeling lazy, it will smell fresh time and again, it will last just as long as your pocket wants it to, and it will feel great to touch…after all you touch it all through your practice
If you've gone online looking for a yoga mat, then WOW you will have been bombarded by choice – everything from $10 to $200, patterned to plain, extra thick to travel size. Just sooo many choices, and unless you really know what you want, you're a seasoned yoga may buyer, or you don't give a hoot then the choice can be a little overwhelming.
2020 health awareness aside, having your own mat is just plain hygienic!!! I bought my first yoga mat before my first class of yoga – the thought of sharing my body with a used sweaty mat just didn't sit well with me at all!
While cleaning mats with a sponge in studio will help remove surface bacteria, mats are designed to wear in with you! they do absorb – they take on the spirit and emotions of the yogi practicing, they mould to fit your shape as they take on your body oils, and there's bound to be sweat and skin and whatever else getting in there!
Whilst I cant tell you what you mat is best for you, I can point out some essential things to consider, and just remember, like most things in life you get what you pay for.
Id say rule of thumb – consider your mat purchase like you would consider the purchase of a new pair of runners. Most classes last about 60mins so if you were to run 60mins a few times a week what investment would you put into your shoes? Do the same for your mat. We are super lucky in yoga because really, we have very little to spend on extras – your mat is your foundation though – it needs to be your ONE big purchase :0
GRIP & THICKNESS
How much grip and cushion do you need your mat to have? Honestly, what style of practice do you have? If you're mostly yin and only imagine yourself kicking arse in hot power vinyasa then you really don't need such a grippy mat but you may like more softness under your but. Hot bikram yogis generally place towels on their mats as the style of practice is fairly static, however in a hot vinyasa there's lots of movement and towels become tricky so a grippy mat is really important – CRUCIAL in fact. If you know your joints are a little sensitive then you may like to go for a mat with a little more thickness even for vinyasa. BUT BE WARNED – the big thick pilates style mats, great for floor work, are near impossible to balance on and do not work for standing practice AT ALL!!!!
1mm are thinner than towels and ok for travel or a top layer on your mat only
3-5mm are kinda standard – offer good support, not to heavy to carry and it feels like there's something underneath you
6mm is getting thicker and heavier, but a well made mat still offers great support, and these feel very substantial under your bod!
Thicker than that just check carefully that its going be steady enough under your feet for standing asana and balances…if its squishy it won't work!
As far as grip goes, mats do wear in over time, as they take on oils and heat from your body. Look for a mat that has not slip technology or textural elements woven through it. Many mats come with fabric on top that acts like a towel. These can be great in HOT yoga classes if you wet them down first 9Under hand and feet zones) but they do need to be washed out after every practice and can look grubby after a while, so only good if you LOVE cleaning :))))
Cork mats get stickier as they get wetter and can offer great grip -but make sure they are made really well or the cork will rub away over time (quite fast if you have a heavier practice or body).
There are some awesome grippy natural rubber, interwoven jute, and tyre mats out there (my fav mat so far is made of recycled wetsuits) that are also great for the planet.
Next topic…
ECO CRED
earth friendly, eco conscious mats.
All mats can be kind of eco if you put your thinking cap on. An old mat no matter what its made of can be recycled to the garage to use as lining for shelves or padding under unused furniture but some mats also biodegrade after time and come from natural renewable sources. As mentioned above, natural tree rubber, recycled tyres and wetsuits, jute, even wool mats are perfect as they not only feel great, smell great (no tacky plastic stench – which can by the way, stink out a studio), look great, are safer your hot sweaty absorbent body and are kind to the planet you live on, often supporting small communities and home grown companies.
MAT SIZE
Size of mat is worth considering too. The bigger the mat the more space (handy if you're a bigger bloke) but the trade off is a heavier mat – Not so great if you walk or ride to yoga or plan on travelling with your mat.
SMELL & HYGENE
And a not sooooo romantic aspect of yoga mats, they can smell. Good mat hygiene is imperative! Let your mat air every week (preferably after each practice, but def once a week). Take it out the boot, unroll it and leave it the dappled sun for a few hours – great for killing bacteria and releasing odours. Make yourself a nice smelling mat spray – eucalyptus, lavender, lemon myrtle, tea tree..all smell wonderful and bright and also disinfect your mat (just read manufacturer guides on oils on mats) or a simple Dr Bronnhers diluted soap spray will do the job. Just let your mat air dry before rolling. You can also buy closed cell rubber that lessens moisture absorbtion which will help keep smells away too. Some mats even have built in odour blockers- I guess it depends how stinky you are!!!
PRETTY LOOKS
As far as pretty designs ago theres a plethora to choose from. Just go with what you fancy…bright designs though, do stand out in the crowd and I think can be distracting so maybe opt for something mellow unless you like attention! . Oh and one thing – Im always wary of mats with layers! havent found one yet that doesn't eventually peel or wear away (esp …..I tend to like a mat thats just one layer, perhaps with something woven through. Often mats with pretty designs have a top layer..just something to consider if your mat is going to see some considerable action.
LONGEVITY & PRICE
I say rule of thumb for a good quality mat expect to pay $90 and above. Remember this is your ONE big purchase. Care for your mat well and it should last you some years and by then you will most like just feel like a change anyway. Adding a good yoga mat towel to your mat will help keep it young too (thats another topic entirely!!)
All else aside, there's the mat-cred to consider! Nothing speaks more yoga WOKE than rolling out your own yoga mat when you arrive to class ..a bit like pulling up to the Grand Prix in your own Ferrari! Oh and check the studio for mats for sale, ive taken all the hard work out for you and only buy the best!!
PS: never imagined I had so much to say about yoga mats!!!
ask at the shala to see our range of road tested eco mats
---
Back to more members only articles…