HELLO CUPS one for the GIRLS
NEW to us girls from THE HELLO. CUP are the most comfortable reusable, planet friendly, body happy menstrual cups to be found. Made from the highest quality medical grade TPE (thermoplastic elastomer), free from silicone, rubber, latex, BPAS & heavy metals, Hello. cups come in S, M, & L sizes and single or double packs to suit any flow.
Menstrual cups are a safe, hygienic, and planet friendly way of managing your monthly cycle. Cleaning your cup is easy too. With HELLO. GO HAND & CUP CLEANSER. Its pH sensitive to protect sensitive areas, dermatologically tested and leaves hands soft and moisturised.
AND to top off the package, HELLO. LINERS in packs of 3 are available for added protection or inbetween days. Reusable, machine washable, slimline, absorbent, breathable & oh so pretty with their floral designs.
Single cup RR $49.95
Double cup RR $69.95
Cleanser RR $14.95
Liners 3 pack RR $54.95
find them at ECO retailers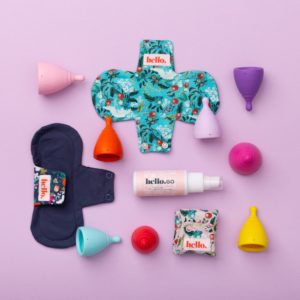 ---
Back to more members only articles…